Creating this wall sculpture for Marsha & Eric Nichols was a marvelous experience. They had been searching for someone to create a piece for their lake house near Austin for quite a while. Eric mentioned to me that they could not find anyone and asked if I knew of anyone in the artist community. I said yes, me. Eric has one of my images from the "In The Clouds" collection at his law office downtown so he already had confidence in my talents.
Marsha & Eric were looking for a metal sculpture that reflected the nature of water. We ultimately settled on a series of waves. I provided them with several designs for them to look at. After they selected one, I made some mock-ups with different types of back-lighting and colors of light. Once the choice of light color and effect was selected, I created a model, so we could see how the light color would look on a rock wall. The exterior of their house in Austin has a similar rock wall to the lake house, so one night I set the model up to test the color and determine the distance from the wall we wanted the light. Eric FaceTimed Marsha, she was out of town that night, so she could see how it looked and help with the final decisions.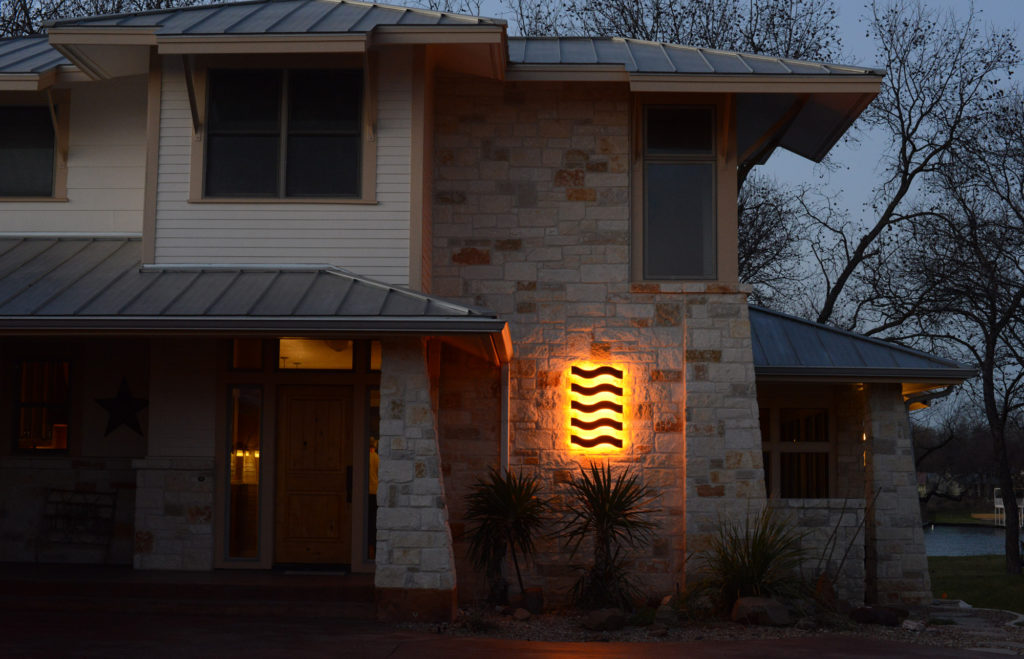 The last challenge in creating this piece was how best to hide the source of electricity and the photo eye that would turn on the light at night.  I strive to create pieces that viewers can become absorbed in, so it is important that the techniques creating the effects are not visible. Working with the sources that were already there, I found the best option for obscuring the power source.  But it was Eric who came up with the solution for the photo eye by placing where it went through the bottom wave.
Finally one Saturday afternoon I took the finished sculpture out to their lake house. With Eric's help, we got it installed and that evening it was illuminated for the first time.