Last week, while I was in Tampa Florida, I took an afternoon trip over to St. Petersburg.  I was hunting up some seafood and looking into the local art scene.  While I wasn't sure what part of the peninsula would yield lunch, I knew that at some point I would spend a few hours at the Dali Museum. This would be my second visit to the Dali and would prove to be just as fulfilling as the first.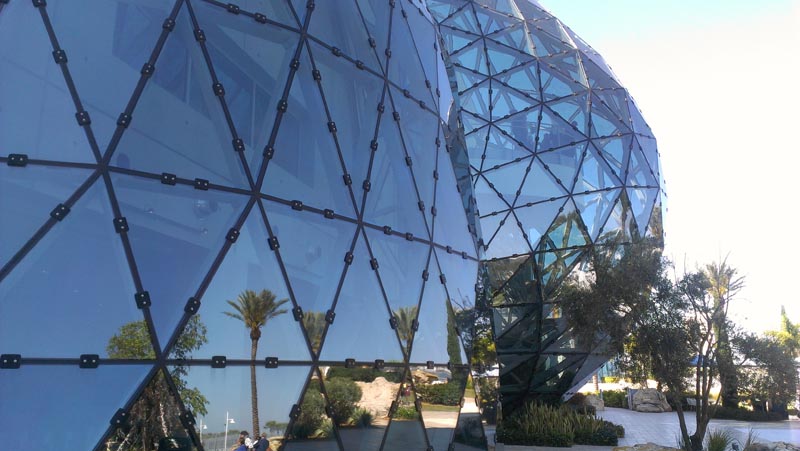 To start with, the museum has several architectural features that I find really interesting. The most obvious are the billowing glass windows on the bayside of the building.  A strong second is the staircase in the center of the building the self-supporting concrete spiral twists upwards, extending beyond the top floor and ending in midair.
Dali's surrealistic paintings are a great place to let your imagination roam around unchecked.  I don't see any need to concern myself with Dali's  thoughts or intentions behind his work.  Instead, I allow myself to create my own stories around his imagery which ultimately leads to all kinds of inspiration for me.
The very first piece I encountered was Autum Sonata.  In it, I saw a battle raging between two people, a few lay possibly exhausted or injured and another maybe just an uninterested soul. All this set in the foreground while an unaffected city rests behind it.  I cannot help but project my preoccupations of our own current affairs on to this scene.  Exhausted by war, soldiers bare the blunt of the conflict while the country at large is unaffected.  Or a scene of drones fighting while the city on the other side of the water appears to be unscathed, for now.
Another impression I took from this visit deals with his landscapes within scenes.  I saw a commonality among many pieces of stark and mostly empty landscapes.  I enjoyed how emptiness plays as significant role as any action the scene may include.
I took away a range of emotions and ideas inspired by the works I was drawn to and wonder how they will impact the work on my current projects. I hope you have a chance to wander through his world at the Dali Museum the next time you are near St. Petersburg.